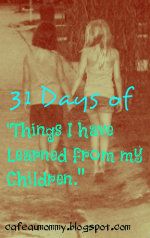 It is finally the end of 31 Days... I did not think I would make it through. And, I missed one day, so part of my "follow the rules" self thinks I need to write one more day to make it legitimate, BUT I have other things I need to do. Other projects to start. I will still blog, just not every day, and maybe on some other topics, although, my kids are just about my favorite subject to talk about.
I wanted to come up with some final thing to end the series, and to summarize it all, and all I could come up with was.... "I am blessed"
I have learned that I am blessed!
Psalm 127:3 a "Children are a gift from the Lord,"
Blessed with children. There are women who long to be mothers that cannot, are facing days and nights of longing for little hands to hold and cheeks to kiss, and I am aware of them, I ache for them. I cannot help but realize how blessed I am. I do not take it for granted.
I am blessed to have children that have turned my world upside down. Wrecking crazy havoc on my heart, turning it and wrenching it as I love them more than I ever imagined possible. The crazy love that makes it permissible to give one hundred kisses at bedtime if deemed necessary and allows me to stay up all night with a sick little one. The crazy love that allowed me gets up over and over to feed and change and rock a new baby, a baby I had just met but already loved with all my heart. Love that allows me to sit quietly as I hear the accounting of every second of their day. I am blessed that I get to be part of that world.
And I am a better person because I am a mom, I have learned through no effort of my own that my life is not my own. I am pulled on, needed, sleep deprived and served out. But joy reigns in my heart because it is all worth it. All these things I thought I would never do, and definitely not joyfully are now part of my day, although not always full of joy.
I have learned that I do not come first. And that is a hard lesson, but one I think that makes me a better person. The ability to see each of the people in my life, whatever age as someone loved by a mom, and ultimately by their Creator.
I am BLESSED. I have learned that life with children will never go as planned, days will never go as planned, but God has it all in His plan. And that is okay with me, better than okay, it is grand.
I have learned that each day is a gift, to enjoy with these blessings, and each moment is a treasure, words spoken wise beyond years and hugs given without regard, simply because I am their mom. I am oh, so blessed, and thankful.
So I will keep counting my blessings
71. laughter of siblings
72. songs sung about chocolates jumping on the bed
73. bright eyes peering at me from under covers early in the morning
74. a sister who loves her brother, speaking affirmation in front of others, "you are so handsome!'
75. neighbors to celebrate with
76. food shared and prayers answered
77. a new church that feels like home
78. our old church that will always be like home
79. friends and family we have to miss.