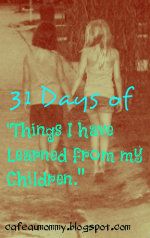 I will never be ALL that they need, but I am enough.
I can try to fix it all, to make it better, to protect them from every heartache and suffering in life. And I very well might try, but I will fail, because I am not ALL.
I have written earlier
here
about my little girl coming to me in tears about not knowing what to say to make friends. I was overwhelmed with her honesty and heart. And I was angry at the world for not just wanting to be her friend. I did not have all the words, I had my words which I could not speak because they were not helpful or uplifting, but I held my tongue, and I held my girl and we talked a little about what would be good to say, it was far from all she needed to hear, but it was enough.
Cries in the dark, a nightmare that disturbs the precious sleep, and all I can do is hold him, rock him and pray for peace. I can not fix it ALL, but I can hold tight until it is over, enough.
"I met a girl today who has a friend whose parents are not Christians." "I think that would be really hard, to be a Christian and not have parents who are Christians."
Words spoken in passing, as I am tucking in blankets and children ready for bed. This moment seems profound. A moment where she may have realized the blessing of parents who love the Lord, and compassion, a heart that aches for a girl who does not. But what do I say, nothing. I am inadequate to explain it to her. How very right she is that must be hard, and how blessed she is to have parents who do BELIEVE. Instead, I hug her and tell her I love her. The words I have are not all she needs, but they are enough.
Tears flow for things missed, for people missed, for life missed, grieving a life that has changed. I understand the grief, I have it too. And maybe that is why I do not have all the words they need to hear to make it all okay. I only have some words. Words of understanding and encouragement, but words that are not ALL they need, just words that are enough. Enough to know that they are heard and loved, but that I can not make it all right.
And I think it is good, I think the enough is ENOUGH. Because if I was all, they would not have need for a Father in Heaven who is ALL they need. A Father who loves them and loves a heart that is thankful. A Father in Heaven who grieves with a child whom He loves, and heals a heart that is broken because HE is ALL they need. My enough is so inadequate, but it leaves room for the Lord's complete, the Lord's ALL.
Psalm `16:5 "Lord, you alone are my portion and my cup; you make my lot secure.
This post is submitted to Walk with Him Wednesdays at
A Holy Experience