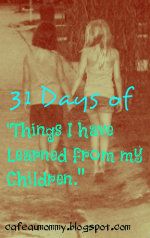 The chubby arms of my two year old are wrapped tight around my neck, little gasps of air, hot tears on her cheeks, and she whispers, "I just want you mommy; I love you."
"I love you too, baby, and I want you too." I whisper it back in her little ear.
Swaying gently, prayers are prayed, another song sung. Her little body gets heavier as she settles into my arms. The gasps for air become a little less frequent. Knowing she is loved so much, she can rest. For now, she sleeps.
And just for a moment, nothing else matters but this little girl. And words spoken at some place and time come again into my mind: "They will never say you loved them too much."
I could never love them too much.
In their grown up conversations about all the things their mom did wrong - yelled too much, did not listen enough or was too busy - the one thing they could not say, was that their mom loved them too much. Because it is not possible to love a child too much. Not in the spoiled, give-them-everything-they-want way, because that is not love, but in the I-know-my-mom-will-ALWAYS-be-there-when-I-need-her way.
And I pray that she will know I always love her...
Even when we fight over bed time;
When she scratches her brother, fighting for her words to be heard over all the noise of her siblings;
And she sits in time out, screaming.
I LOVE HER.
I will always love her...
When she wakes up with a crazy head of hair and her first thought is to hide and ask, "Who can find me?!";
When she laughs so hard, covers her mouth, and falls down;
When she finishes our game, and I ask, "Whatcha doin'?"
She answers, "Eatin' chocolate."
"Where'd you get it?"
"From dad." She says.
"Where's dad?"
She laughs, "Eatin' chocolate."
And we laugh 'til our sides hurt because when you are two and loved, there is not much else better.
I love her when she pretends to be hurt and then, when we all go to take care of her, she yells, "GOTCHA!" at the top of her lungs and again falls over laughing.
I love her when she kisses her siblings over and over with messy two year old kisses, "I WUV YOU SO MUCH!"
And I won't mess this up because I can't be wrong if I love her too much.