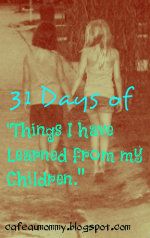 This post is a rewrite from one I wrote a year and a half ago. (
here
)
Running in the way only a three year old can, catapulting himself through the air, he landed on the lap of his dear great-grandmother. We were up visiting for just a short trip.
It is always dear to me to see him with my grandma. He is named after my grandpa, who passed away just a month before my first little girl was born. And he is another David that has a strong affection for my grandma. One time, he forgot to say goodnight to her, so he ran downstairs and quickly hugged and kissed her goodnight. Another time, he realized she did not have a drink, so he ran to the cooler and found her a Mountain Dew. She had not asked for a drink, but he had just noticed she did not have one and decided to get the Mountain Dew for her.
He is always so happy to see her, and shows it in the way a three year old boy does - which usually involves a lot of activity. So this run with a leap through the air made me nervous, but he settled himself on her lap. He started to examine her hands, tracing the lines and turning them over.
"They are old hands," she said, sounding a bit embarrassed.
He kept looking at them tracing and turning for another minute or two, and then he looked at me with big eyes and said, "MOM! Did you see them? They are BEAUTIFUL!"
They are beautiful, beautiful because she had
lived
, raising six children, two of whom were adopted, caring for grandchildren and loving great grandchildren. She has a Master's degree in education and was a school teacher for years. Those beautiful hands used for years to hold little children, comb little hair, and make meals for all those she cared for. Those hands were used to knit sweaters and hats. Hands used to hold littler hands while praying. And hands used to hold books and read to children. I have memories of sitting on the porch of her house picking green beans and popping the beans out. And memories of picking apples in their small apple orchard that then turned into applesauce and apple pie. And hands, her beautiful hands, now held this little three year old
She has lived a LIFE and her hands showed that, and
that
is what makes True Beauty.
This post is linked up to Titus 2 Tuesdays...