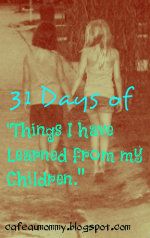 "Mom - mom - MOM!" She whispers it not-so-quietly. I roll over to check the time. It reads 1:00 a.m.
"What?" I ask in a haze.
"I just wanted to thank you for helping me when I was scared last night, and to let you know you were right." She whispers. "Good night, mommy!"
"MOM!" She whispers again not-so-quietly. Again, I check the clock. It is now just after three in the morning.
"What?!" I whisper again, a bit annoyed because her baby sister is now sleeping next to me.
"I just wanted to let you know that I am so thankful for you helping me last night when I was scared. Good night!"
"Good night!" I whisper back.
How can I possibly be upset with this little girl who is so thankful for a mom who prays with her and lays with her when she is scared, a mom who lets her know it is going to be okay. I think I got a little short tempered as we were facing storms, which I am terrified of, and the baby was up, refusing to sleep. She kept saying she wanted to be helpful, but was just really scared. I kept praying for her. She then got concerned about throwing up, and I decided to head that off by offering her five dollars if she did actually throw up. That way, it was a win-win. If she did throw up, she got five dollars; if not, she was fine. And it seemed to work. The baby settled; we cuddled up in her bed; and she fell asleep, safe and sound.
And somehow in that, in the chaos of a night, I had comforted her in a very imperfect way. AND she was thankful.
How much more then does my Heavenly Father provide comfort for me? Do I wake up to praise Him in the middle of the night when I think of his provision, his mercy, his grace, his comfort? Oh, what a blessing it is to be reminded to be thankful.
SO, my list continues, my list of thankfulness:
31. God's provision, when I have no idea how it will work out;
32. Words of comfort;
33. children's laughter;
34. God's promises;
35. Being woken up to a child who is THANKFUL;
36. New friends who make amazing cake, and celebrate with me;
37. Facebook that reminds me I have lots of friends and they make me feel loved on my birthday;
38. A husband who gives me a day just to myself;
39. A husband whose favorite thing is making me laugh;
40. new friends who learn with my children.