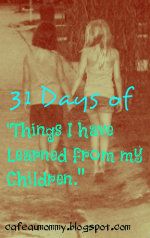 Joy is obvious. Joy overflows.
This suffering, this time for me, is like a hill that does not end, the kind that might not be so severe it makes it hard to breathe but the kind that wears me out because I have been enduring for so long and do not see an end in sight.
And then, every once in a while, right in the middle of suffering, a blessing comes. The suffering does not end, but right where I least expect it, blessing.
I am reminded that all blessings are from above. So often, though, I attribute that to something I did, something I deserve. But that is wrong. Blessings are all from God.
James 1:17 "Every good and perfect gift is from above, coming down from the Father of the heavenly lights, who does not change like shifting shadows."
And every once in a while He has one just for me, and I cannot help but laugh because joy overflows. God met me so personally, met me so obviously, met a need I had that I wanted to shout from the rooftops, "How GREAT is my God!" Joy was obvious, so obvious that my children noticed. They comment on their mom who is in such a good mood. And the joy overflow flows to them. They change too.
And we are reminded of our blessings, our things to be thankful for, our list of counting blessings:
41. personal blessings from my Father above;
42. the chance to share joy with my family;
43. the chance to share suffering with my family;
44. praying through joy and suffering with my family;
45. running partners that laugh with me;
46. running partners that listen to me when I need to just keep talking;
47. deer that meet us early in the morning for our runs, just so we get a chance to see God's beautiful creation in the stillness of dark;
48. the excitement of starting a new book;
49. the joy of listening to one of my children tell me about the adventure in their book;
50. watching my son practice his drawing, so he can grow up to be an artist like his daddy one day.