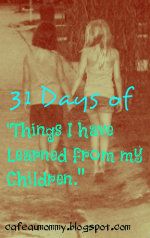 I spend hours with these children each day, and it is a gift, to see their strengths and weaknesses and joys and frustrations. It is encouraging and challenging to see how each child has been made, uniquely made. And it is a responsibility to see these children with the eyes of Jesus, and try to guide them to be the big people one day that God has called them to be.
It is a gift and a fear.
As I have struggled for years to figure that out, floundering. Bearing this weight of wanting to be someone they want to be like. With three girls I have fought how to be a woman they can admire. I want them to want to be like me, but I want to be someone worth being.
So I wrestle with living dreams and doing things that I have always wanted with fear of falling on my face in front of my children, but also fearful of not doing anything worth striving for.
So I dream and do things I love. I do things that make me, ME. I read and spend time in God's word. I experiment with cooking. I run. And I write.
I started running races when my son was just a couple of months old, and I did not win, but I became stronger. And my girls ran a race with me. They have goals of maybe running as far as mom when they are a little older, and maybe faster.
And, I went to a writer's conference four years ago, with the hope of making my dream of writing come true. It was a pretty awful experience. I am not going to say the conference because I still have mixed feelings about the conference itself, but overall I was told, "You
will
fail" and be told "No." They are right, to tell you that, but they also said that no one cares who you are until you are someone. I get the point, but it was frustrating. So I swept that one under the rug, but now four years later, it is coming back up. And I have started to write again. I know that if I ever step out a little more bravely from behind this blog I will fail, many times, but it is possible I may actually succeed a little. So it is worth it. To live a dream and have my children see that falling flat is part of life, but so is getting up and dusting myself off and stepping forward. And as I write I have a little girl who is starting to write and dream her dreams. She has written letters to several authors and they have written her back. She even read one of her stories to a group of peers. It was my favorite story of hers, and someone said it was "dramatic." She never wants to write again. But I need her to see that is part of life. People will give criticism, sometimes it is right and sometimes it is not. It is important to make you want to try harder, not to give up.
I am learning to live dreams and have dreams, to be willing to fall on my face and get up and dust off and keep going, for the sake of my children.