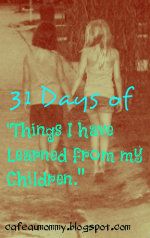 I heard a cry as I stepped out of my car after an early morning run. I looked, and staring at me was my sweet little girl. She had the door open and was just standing, watching. I ran to her and scooped her up in my arms. Every emotion and horrible thing that could have happened ran through my mind.

Everyone was still asleep. She had woken up and could not find me.

"What are you doing sweet girl?"
"I was watching for you mommy!"
As I lay in my bed later again replaying all that could have gone wrong and thinking how to keep this fearless one from running off in the middle of the night on her own adventure this verse kept coming to my mind.
"Watch therefore, for you do not know when the master of the house is coming--- in the evening, at midnight, at the crowing of the rooster, or in the morning--" Mark 13:35
In this moment of terror of all that could go wrong, I saw so clearly this picture of me, waiting, watching for the One I love, my Savior, who has promised He will return. Maybe, just maybe this is what that verse looks like. Waiting and watching for the One we are longing for to return.
(... and for those grandparents who are reading this, don't worry, we are working on a fix for this...the escaping from home in the middle of the night thing)