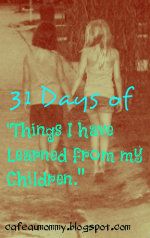 "Mommy, you spank me, but I NOT WISSENING TO YOU!"
Words spoken to this mom who, after 10 years of being a mom, still has NO idea what I am doing. It is so humbling to know that I will never get it right, and it makes me all the more grateful that my Father in Heaven always gets it right.
I am certain He is never rolling his eyes at me, trying to figure out what to do now that I have once again fought what is best for me.
This little girl has taught me that I am SO far from perfect. I thought after three children I would have this mastered. Oh, I could not be more wrong.
I will never forget the twenty week ultrasound with this wee one. We went in and I knew it the minute I saw it - nothing too alarming, but something very distinct. There were just two vessels in her umbilical cord. This had happened five years prior when I had my ultrasound with my second. I always joke with her that she has been high maintenance since then, keeping me on my toes. When you have a two vessel umbilical cord, it could mean that about five hundred things are wrong, or it could be nothing. So you have to go in for extra tests and get monitored and measured - high maintenance. My second was born perfectly healthy at 8 lbs 1 oz. And now five years later, only two vessels again. Tears stung my eyes as the fear of another wild little girl was going to join our family. I was terrified that I was going to have to do it all over again: the battles, the fights to try to teach this strong will but still let her be who God made her to be. I also cried with relief that my 5 year old spitfire would have someone who could understand her.
Then she was born, perfectly healthy 8 pounds with a little firework on her cheek - a mark that I did not know at the time would define her personality so perfectly. She was born almost on the 4th of July. And apparently the only thing that two vessels means in our family is
feisty
.
I am humbled every day by the responsibility I bare of raising this child - these children - fearing they will NEVER be able to actually participate in a normal society.
And, I am humbled by hearing how my voice sounds so much like hers when I am speaking to my Father. I can be disciplined, but I AM NOT LISTENING! I so often think I know what is best.
And here it is, this little two year old humbling me, teaching me that I do not know what is best. Actually, I often have no idea what is best. In fact, I get it wrong more often than not. She needed love at this time, not discipline. So thankful my Father always knows what is best.
So we rocked and I held her. She stopped screaming, and I rocked some more. And finally, she fell asleep.