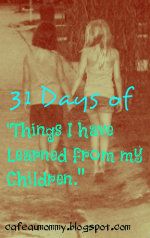 In the quiet of the morning after a run, I sit next to her and listen, as she pours out her heart, a dream that she does not understand. A dream that breaks her heart and mine as I realize my little girl is not so little.
And I hold my tongue, eager to just keep her talking. I hold back the advice that a mom is so quick to give.
She has been talking for the ENTIRE twenty minutes of our walk, I mention it, but only in kidding, eager again to just hear all that is on her heart. Hesitant to give any words that might stop the heart she is sharing; a heart full of joy at my undivided attention.
There is a time for a mom to listen to be quiet and wait. It is so difficult to not impart all my wisdom on their little ears. But those moments I am quiet are when I get to hear their hearts.
Hearts full of...
Fears of change, growing up, and the unknown.
Joys of friends, growing up and new things learned.
Dreams of stories, GROWING UP and all that happens in their imagination.
And for these moments while they are still young and willing to share... I will be quiet and listen, eager to be part of their worlds.