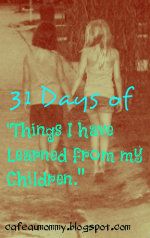 This may be a cop out on my goal of posting every day for 31 days. However, after a night of VERY little sleep and a day with even less rest, I am reminded of the importance of slowing down. I have learned that sometimes the best thing for my family and I is to stop trying to complete the "to do list", just walk away and rest.
Also in a world that is full of hurt and heartache, I am holding on to little ones and spending time just spending
time
with them.
So that is all for tonight. Slowing down and counting my blessings...
21. A pile of books ready to be read to littles all in warm pjs with freshly brushed teeth.
22. A baby who is sleeping safely in her bed.
23. Cool night air
24. Feet that heal
25. Running
26. New friends, more and more new friends
27. The sneaky smile of a two year old stealing almonds
28. Songs that people are gifted enough to write, that speak to my heart in a way my own head won't
29. A Heavenly Father that hears the cries of our heart, even if we can only whisper them
30. A Father who forgives a hundred times over