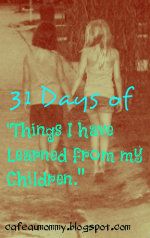 The encouragement and cliches roll of my tongue...
"Things worth doing are hard!"
"If it was not hard, you would not be learning anything!"
"It builds character!"
Sitting with discouraged children trying to learn math facts, memorize dates on a timeline or sounding out difficult words. It is what days in our house often look and sound like. They are frustrating and a lot of work. I often do not understand what I am missing in teaching them and they do not understand what they are missing in learning.
But I keep cheering and teaching, and they keep working. Sometimes for weeks... we work on something, sometimes months.
But then all of a sudden, it makes sense! All the, "I will never be able to do this!" Turns into "I can not believe I learned this!"
And the things that are a struggle, the things that take more time are put on the pedestal for further cheering, because she did learn all the dates on her timeline, of course, with some hard work, she can learn those spelling words.
Each day they learn more, their minds growing at speeds I could hardly fathom when I started this whole homeschooling "thing." And I am encouraged because suddenly the hard work is paying off, and they,
we
, are seeing the fruits of our labor.
And I am reminded of my cheers, "Things worth doing are hard." Writing is hard, but it is something I want to do and something that needs practice, so I do it in hopes that there will be fruit in my labor. Training for a race or just running at 6:00 in the morning is hard, but they are worth the
hard
to get a result. And relationships are work and hard, but they are worth doing.
The satisfaction knowing that it was worth it, all the
hard
, which led to the "I can't believe I did it!"
This is part of a 31 Days Series,on Things I have Learned from my Children. For the first post in this series click
here
.
This post is also linked to
Titus 2 Tuesdays