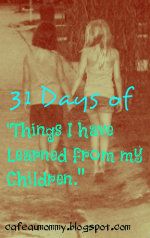 I have been writing about 31 Days of "Things I Have Learned from my Children" and I recently wrote a post
here
about how running makes me a better mom. Today the word for
Five Minute Fridays
over at Lisa Jo Baker's is "Race" This brings up an entirely different reason I run. So for five minutes here are my thoughts on "race."
Start
I started late at the whole racing thing, I was thirty when I ran my first race. It was a 25k, just over 15 miles of running. I had not been a runner my whole life, in fact I could hardly able to make it half of a mile without falling over gasping for air. But as an adult, I decided to start running, to try. I ran a block. I would get up every morning and run one block, then two then three, finally up to three miles. I got stuck there, at three miles. I ran three miles every day for years. UNTIL one day I met someone who said she would train with me for a race. And so we ran together. And I learned the benefit of friends and running. I learned how misery DOES sometimes love company and the joy of setting a goal and reaching it. When race day came, I was all nerves and excitement. We ran the entire race together, and at the end I was exhausted and thankful to be finished.There was nothing remarkable about the way I raced, it was very average. But then I found my family. And my three beautiful children and husband were PROUD of me. I had finished a race.
Days later the girls were playing a game of pretend. One would cheer as the other came around the corner RUNNING her own race. And I realized how significantly even these things I do, for myself are impacting the little minds of my children. That every day I have an opportunity to set an example, to build in them something good. And, they will do as they see done.
STOP