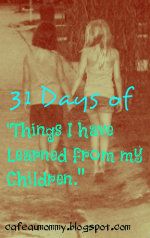 My ears sting from the cold and my hands are a bit numb. My feet in rhythm, striking the ground as the world is flying by and I am doing
something,
moving forward. So far from the normal rest of my day which involves cleaning, cooking, changing diapers, REPEAT and no forward motion ever seems to be made, just a circle that I get back to, to start again. Most of the world is asleep, but I am awake, alive, my mind clearing for all the to do's that lie ahead. But for now, I am free. I am running.
And running, I have learned makes me better. I am a better mom (and wife) because I run. It may be that I could be better with some other sport or activity. In fact, I am pretty sure it would. But for now, for this time in my life, running works. I can run whenever there is a spare moment or before the moments of the day have even started.
My mornings work better. My time is more organized. Some days I run with friends. Words exchanged with the only grown up I see all day. And sometimes I run by myself and I can plan for all that needs to bed done, OR I can just dream about life, OR I can just think of nothing for miles. And I get to make that decision
myself
.
Those days, the ones I run, are usually the days my patience stretches a little longer. Those are the days, my "to dos" get checked off a little quicker. And I feel strong, ready to take on whatever the day holds. Some days, when I have not slept at all, and morning has come too quickly, I still get up and run. Because I know, the day will be better if I do.
Just recently my four year old took off on his two wheel bike, and this new found freedom has allowed for me to do something I have not done since my oldest was a baby, nine years ago. I have started running with them. They hop on their bikes, the two year old in a jogging stroller and we go, running faster than I would by myself to keep up with the energy of children ready to go! And I get to share part of my world with them, my running world. And they get to see me in part of my world that was always a secret, the one that happens before their sleepy eyes are even awake. They stumble out of bed curl up in my lap and ask, "How was your run mom!" I love that they know I run. And I love that they get to be part of that world sometimes now, when life is maybe a little extra hard, and a second run is necessary, or the morning got a way from me and I missed the run. They join with me.

But sometimes it has to be just mine. Still my time, to restore in the wee hours of the day.
And so I run, knowing I am a better mom because I do.